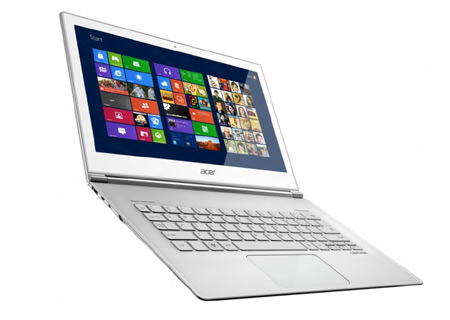 The Acer Aspire S7, released around November last year, was one of the laptops that acted somewhat as promoters of the new Windows 8 Operating System, and sports a new ultabook design solely for it, instead of being upgraded to Windows 8 from the previous 7 OS. It has a very thin body and also as a result quite light. It is also naturally quite smooth and cool-looking due to its width, and though the thin body might seem to be unable to have powerful processing units built into it, it actually has a option to have a built-in high end Core i7 Intel processor, which can, being an i7, handle multitasking and resource-heavy computer tasks. IF the price for the i7 model is too expensive, then a cheaper i5 model can be purchased.
Main features include a 13.3 inch touch-screen display – common for Windows 8 laptops as Windows 8 is touch friendly, and the display has a fairly high resolution of 1920 x 1080. The resolution is also a part that contributes to the Aspire S7′s premium price, but it is a premium ultrabook for serious work, though the Windows 8 tile interface is hated by some. As for connectivity options, the Aspire S7 is rather limited, with only 2 USB 3.0, standard SD card slot and a microHDMI port, which is troublesome if you do not wish to carry a adapter for connectivity with HDMI and VGA output.
Overall, the Acer Aspire S7 is a good choice for those looking to purchase a premium notebook for on-the-go content creation and heavy Photoshop work, though there are many other choices for consumers who find the Aspire S7′s premium price tag difficult to swallow.
Photo Courtesy Of: http://www.notebookcheck.net/uploads/tx_nbc2/acer-aspire-s7_01.jpg